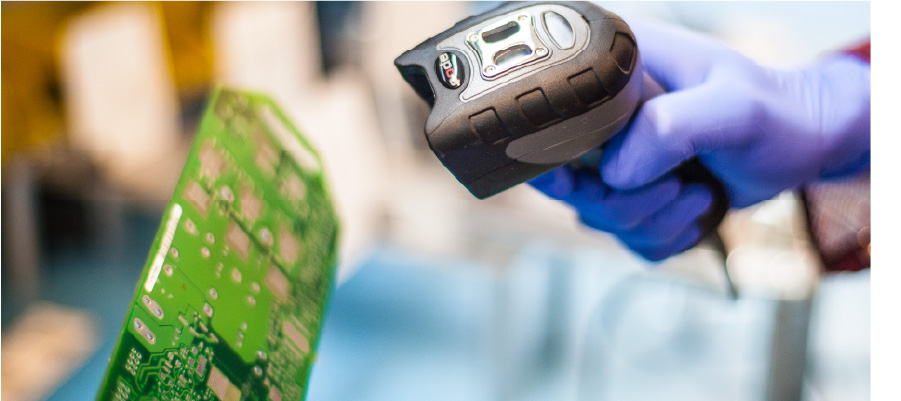 Our limited warranty is
not too long!
reassuring!
easy reading!
Limited Warranty. Code warrants each Code product against defects in materials and workmanship under normal use for the Warranty Coverage Term applicable to the product as described at codecorp.com/legal/warranty-coverage-terms/. If a hardware defect arises and a valid warranty claim is received by Code during the Warranty Coverage Term, Code will either: i) repair the defective product using new parts or parts equivalent to new in performance and reliability; ii) replace the product with a new or refurbished product with equivalent functionality and performance, which may include replacing a product that is no longer available with a newer model product; or ii) in the case of failure with any software, including embedded software included in the product, provide a patch, update, or other work around. All replaced products become the property of Code. All warranty claims must be made using Code's RMA process available at www.codecorp.com/legal/rma-request/.
Exclusions. This warranty does not apply to: i) cosmetic damage, including but not limited to scratches, dents, and broken plastic; ii) damage resulting from use of the product with non-Code products or peripherals, including batteries, power supplies, cables, and docking station/cradles; iii) damage resulting from accident, abuse, misuse, flood, fire or other external causes, including damage caused by unusual physical or electrical stress, immersion in fluids or exposure to cleaning products not approved by Code, puncture, crushing, and incorrect voltage or polarity; iv) damage resulting from services performed by anyone other than Code or a Code authorized repair facility; v) any product that has been modified or altered; vi) any product on which the Code serial number has been removed or defaced. If a Code Product is returned under a warranty claim and Code determines, in Code's sole discretion, that the warranty remedies do not apply, Code will contact Customer to arrange either: i) repair or replace the Product; or ii) return the Product to Customer, in each case at Customer's expense.
Non Warranty Repairs. Code warrants its repair/replacement services for ninety (90) days from the date of shipment of the repaired/replacement product to the Customer. This warranty applies to repairs and replacements for: i) damage excluded from the limited warranty described above; and ii) Code products on which the limited warranty described above has expired (or will expire within such ninety (90) day warranty period). For repaired product this warranty covers only the parts that were replaced during the repair and the labor associated with such parts.
No Extension of Term of Coverage. Product that is repaired or replaced, or for which a software patch, update, or other work around is provided, assumes the remaining warranty of the original Code Product and does not extend the duration of the original warranty period.
Software and Data. Code is not responsible for backing up or restoring any of software, data, or configuration settings, or reinstalling any of the foregoing on products repaired or replaced under this limited warranty.
Shipping and Turn Around Time. The estimated RMA turn-around time from receipt at Code's facility to shipment of the repaired or replaced product to Customer is ten (10) business days. An expedited turn-around time may apply to products covered under certain CodeOne Service Plans and Code Complete Product Service Plans. Customer is responsible for shipping and insurance charges for shipping Code Product to Code's designated RMA facility and repaired or replaced product is returned with shipping and insurance paid by Code. Customer is responsible for all applicable taxes, duties, and similar charges.
Transfer. If a customer sells a covered Code product during the Warranty Coverage Term, then that coverage may be transferred to the new owner by written notification from the original owner to The Code Corporation at:
Code Service Center
434 West Ascension Way
Suite 300
Murray, UT 84123
Limitation on Liability. Code's performance as described herein shall be Code's entire liability, and the Customer's sole remedy, resulting from any defective Code product. Any claim that Code has failed to perform its warranty obligations as described herein must be made within six (6) months of the alleged failure. Code's maximum liability related to its performance, or failure to perform, as described herein shall be limited to the amount paid by Customer for the Code product that is subject to the claim. In no event will either party be liable for any lost profits, lost savings, incidental damage, or other economic consequential damages. This is true even if the other party is advised of the possibility of such damages.
EXCEPT AS MAY BE OTHERWISE PROVIDED BY APPLICABLE LAW, THE LIMITED WARRANTIES DESCRIBE HEREIN REPRESENT THE ONLY WARRANTIES CODE MAKES WITH RESPECT TO ANY PRODUCT. CODE DISCLAIMS ALL OTHER WARRANTIES, WHETHER EXPRESSED OR IMPLIED, ORAL OR WRITTEN, INCLUDING WITHOUT LIMITATION IMPLIED WARRANTIES OF MERCHANTABILITY, FITNESS FOR A PARTICULAR PURPOSE AND NON-INFRINGEMENT. THE REMEDIES DESCRIBED HEREIN REPRESENT CUSTOMER'S EXCLUSIVE REMEDY, AND CODE'S ENTIRE RESPONSIBILITY, RESULTING FROM ANY DEFECTIVE CODE PRODUCT. CODE SHALL NOT BE LIABLE TO CUSTOMER (OR TO ANY PERSON OR ENTITY CLAIMING THROUGH CUSTOMER) FOR LOST PROFITS, LOSS OF DATA, DAMAGE TO ANY EQUIPMENT WITH WHICH THE CODE PRODUCT INTERFACES (INCLUDING ANY MOBILE TELEPHONE, PDA, OR OTHER COMPUTING DEVICES), OR FOR ANY SPECIAL, INCIDENTAL, INDIRECT, CONSEQUENTIAL OR EXEMPLARY DAMAGES ARISING OUT OF OR IN ANY MANNER CONNECTED WITH THE PRODUCT, REGARDLESS OF THE FORM OF ACTION AND WHETHER OR NOT CODE HAS BEEN INFORMED OF, OR OTHERWISE MIGHT HAVE ANTICIPATED, THE POSSIBILITY OF SUCH DAMAGES.
D033598